We completely understand how lice can be extremely traumatizing to discover. South Jersey Lice Lady LLC is owned and operated by a Registered Nurse.  As certified professionals, we work with your family to treat you quickly and effectively the same day. Our goal is to get your kids back in school and you back to work.  Professional, friendly and certified technicians will treat you in our beautiful Washington Township treatment center or in your home.  We guarantee our services.  We use non-toxic & pesticide free treatment products. We provide a return to school letter for all children. Flexible Spending and Health Spending accounts are eligible for reimbursement. Support is available 24 hours a day to address any concerns you may have post-treatment.
★★★★★
"
Our family's experience with the South Jersey Lice Lady has been wonderful! Although we wished we hadn't been in this situation to begin with she has been amazing. She sent us reminders, educated us and showed us how to treat it ourselves. What a lifesaver! Highly recommend.
"
★★★★★
"
She was amazing, came out quickly, did such a thorough job. Didn't rush to do the job she was there to do. Didn't charge me tons extra, like most people do that come to your home for one reason or another. She left with me feeling like she has taken care of our issues, and not taken me for a financial ride at the same time. I love that after, she emailed a detailed treatment plan, set up a follow up, and gave me the best, clear instructions for me to move forward with.
"
★★★★★
"
Vickie was amazing! She is extremely thorough and personable. She was able to come to our home at a moment's notice and ensured that we were all clear before she left. Vickie continued to check in with us throughout the next couple weeks and even made another trip back when we thought there was a recurrence. Highly recommend her to anyone in need!
"
My name is Vickie O'Donnell and I am the owner of South Jersey Lice Lady, LLC. I am a Registered Nurse and I started this company after my own children had an exposure to head lice.  I had no idea what to do and I seriously freaked out!  I used a popular over-the-counter treatment on my kids and they had a horrible reaction to the product.  I even sprayed the dogs with lice products.  There were lots of tears and crying from them and me!  This started my desire to find alternative and homeopathic lice treatment methods.  Through my research I found a CDC lice expert and she taught me everything there was to know about these creepy little bugs.  I trained at a nonprofit clinic and have been successfully helping families since 2011.  We service Atlantic, Burlington, Camden, and Gloucester counties.  Treatments are provided in our beautiful center in Washington Township or in your home. We make house calls in an unmarked discreet vehicle.  Our goal is to educate, treat and calm the whole family.  We understand head lice can be very stressful and we promise to support you during your treatment plan.  Give us a call and let us guide you through this very difficult time.  We guarantee our process and won't leave your side until your family is lice free!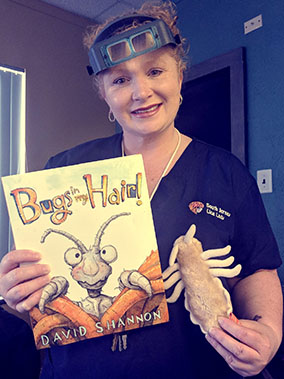 Our certified technicians will educate you and your family during the treatment process.  The knowledge you gain during your appointment will help protect your kids for years to come from another head lice infestation. Don't waste countless weeks and money battling head lice.  Almost all of the United States has reported incidences of resistant head lice called super lice.  These super lice are resistant to the traditional over-the-counter head lice treatment products.   Why waste your valuable money battling head lice when we can do it for you! Call us today.  Our treatment plans can be catered to any budget.
| | |
| --- | --- |
| Short Hair | $105.00 |
| Medium Hair (Shoulders) | $129.00 |
| Long Hair (Mid Back) | $169.00 |
In-Home Treatment
$185.00*
*applies for first 2 hours, then $90/hr (average home treatment is 2-3 hours for a family of 4-5)
Travel Fee
$25.00
Head Check
*waived with purchase of Full Treatment
$15.00
DIY Pro Kit
$115.00
DIY Standard Kit
$55.00
★★★★★

based on

25

reviews
Overall rating:
NJFamily Care & Medicaid Rates*
Short Hair
$90.00
Medium Hair (Shoulders)
$105.00
Long Hair
$145.00
*product discounts also available
* Rates for those currently enrolled in NJ State Medicaid Plans or New Jersey Family Care Plans. Verification of assistance MUST be provided for each person needing treatment.
NO EXCEPTIONS.
Bring to your scheduled appointment:
Drivers license or other state-issued picture ID
The blue and white Medicaid card or New Jersey Family Care card
Birth certificate of child/children needing treatment or foster care verification
Frequently Asked Questions
South Jersey Lice Lady LLC offers FREE Back to School Seminars to provide teaching, awareness and screening methods to help keep your school free of head lice.  Schedule your seminar now!  We also offer camp and school nurse assistance.  Have a daycare with a lice outbreak?  We can come to your school and screen children during the regular school day. Let parents know you truly have their child's best interest in mind.  Call today and speak to one of our technicians or fill out the "Text a Tech" form above for a prompt return phone call.